Background/History
For over 35 years, Concentrics Research, an IQVIA business (Concentrics), has been a leader in the conduct of Rx-to-OTC Switch and late-stage (Phase II-IV) research for the pharmaceutical, biotechnology, medical device, nutritional, and consumer healthcare product industries.
In 1985, Concentrics was born from Walker Research, a global marketing research firm located in Indianapolis, Indiana. Over time, with a number of pharmaceutical companies, excellent relationships developed. The result was the creation and development of novel and customized clinical research services by our Clinical Division. Our heritage in healthcare marketing research has led to a focus on efficiency and commercialization.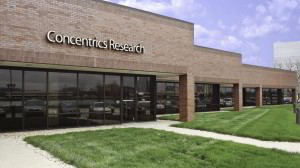 In December of 2002, Concentrics was purchased by the Management Team and Bindley Capital Partners, LLC, an exceptional private equity firm located in Indianapolis (www.bindley.com).  Bindley Capital Partners was formed by the sale of Bindley Western Industries to Cardinal Health in 2001. Founded in 1968, Bindley Western Industries was a $10 billion pharmaceutical distribution and services company (NYSE: BDY).
With significant funding from Bindley Capital, Concentrics is committed to growth and innovation. This results in a continuous improvement in service offerings for our clients.
In June 2010, Concentrics opened a second location, the Concentrics Strategy Center, in Parsippany, New Jersey.  The Strategy Center provides a unique setting that facilitates focus and discussion so that program timelines can be compressed.  The Concentrics Strategy Center (CSC) is located just off Route 10.  The purpose of the CSC is to provide a unique and focused setting for brainstorming and strategy in an accelerated fashion facilitated by Concentrics consultants. 
The strategy rooms are equipped with technology that allows multiple documents to be viewed concurrently and edited easily with touch screens.  Our clients have told us that they can focus with their team and accomplish vetting, decision-making and creation of key deliverables much quicker using this method, often cutting months from their timelines.
In March 2012, the Indianapolis-based Concentrics Center for Research site completed an extensive expansion providing a novel and first class research facility for conducting market research, device and clinical studies.
In June 2019, Concentrics entered into a formal joint venture with STATKING Clinical Services for clinical data management and biostatistics services. This joint venture further expanded Concentrics scope of services to our clients.
In October 2022, Concentrics was acquired by IQVIA to further expand services and offer global reach for our studies.
IQVIA (NYSE:IQV) is a leading global provider of advanced analytics, technology solutions and contract research services to the life sciences industry dedicated to delivering actionable insights. Learn more at www.iqvia.com.