Clinical Research Site
Our physicians have an average of 10 years experience in clinical / marketing research. All physicians are dedicated first to the safety of the subjects then to the success of the study. All physicians are familiar with the ICH/GCP guidelines and adhere to them.
Bill Miller, MD, Emergency Medicine and Liaison between Emergency Room Physicians and Community Health System Heart Hospital
Kathy Kroeger, MD – Internal Medicine and Dermatology
Eileen Thomason, MD – Family Practice
Andy Cagle, MD – Pediatrics
Peter Winters, MD – Dermatology (Skin Grader)
Laura Stitle, MD – Dermatology
William Allen, MD – OB/GYN
Mark Moore, MD – OB/GYN
Keith Knuth, MD – Ophthalmology
Mark Mallott, DDS (Dental Examiner)
Dirk Sterley, DDS
Our research site typically works with the Concentrics IRB unless dictated otherwise by the sponsor.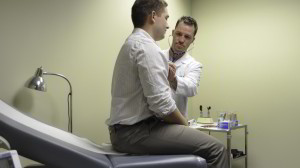 Our outpatient facility is easily accessible from most regional areas via I-465 and close to public transportation. We offer the following amenities:
Six exam rooms
CLIA certified laboratory (PPMP classification)
Interpretive electrocardiograph
-20 degree freezer
Large training/conference room availability
Separate area for monitors with phone and computer access
Secured, limited access storage for study documents
Secured, limited access drug room with humidity and temperature control.
Full time Quality Assurance Manager
Comprehensive SOP's
Specialized Oral Healthcare Services (Mobile Dental Service)
Robust multi- therapeutic subject database
Comfortable subject waiting room
Dedicated four-station Subject Recruitment area
Free subject parking area contiguous with the building
Remote data entry (RDE) capability
Computers with internet access
Fax machines
Within minutes of the Indianapolis International Airport